Rio Dharyl Rafa is 1!
Thank you Aunty Dy for the lovely invitation to Rio's 1st birthday party, a Mickey Mouse theme for him! :))
Kids got so excited when i showed them the invitation via FB, and Hessa just couldn't wait, especially when we arrived there.. Nak makan jer, adik said "jom la mummy, masyuk!" sebab nak tengok all the Mickey Mouse decor and ofcoz the cake! Alololo.. The funny part was, when she just couldn't wait for us anymore, she tried to make her own way in, and daddy would teased her, saying "Zombieeeee!" Larilah anak tuh balik ke meja.. Funny! :P
As for Aidan, since he understood more that cake cutting would be later, sibuklah pula dengan his party favor.. Yer, candies and more candies! My goodness! And you know what, how thoughtful of Dy, when she gave us our own party favors too.. Yes parents pun dapat, ok.. :P Sejadah and yassin.. Thank you, dear.. :)
Hmm, can't wait to share the pics with you, sebab cake sangatlah comel.. :)) Enjoy!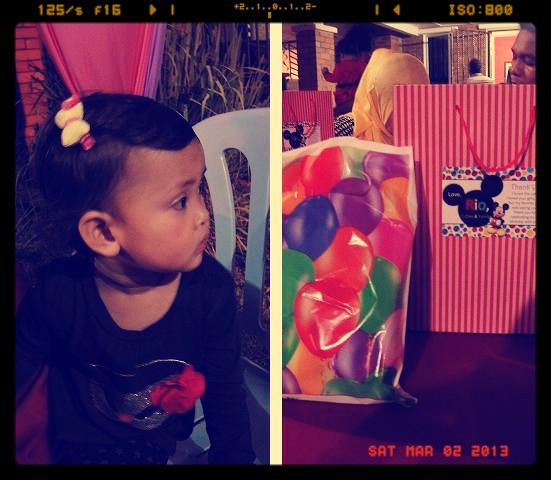 Happy Birthday again, Rio!! :))